OBJECTIVE: Select from the Internet an image of an American wall mural that you consider to be significant. Write an analysis contextualizing the content and style of the mural. Discuss how the site contributes to the meaning of the mural.
Title: America
Artist: Rufino Tamayo
Date: 1955
Intended Location: The Bank of the Southwest – Houston, TX 1955-1990
Current Location: Dallas Museum of Art – 1993 - current
Size: 13'2" x 45'10 3/8"
Medium: Vinylite
(Rufino Tamayo America Mural, 2011)
The very large "America" mural, painted by Rufino Tamayo in 1955, is known for being one of his most magnificent and impressive murals. Working alone in Mexico City for 5 months 7 days a week Tamayo was able to truly focus his efforts into his 13 by 45 foot colorful creation. When he had completed it he rolled it up and sent it to Houston, Texas to be displayed at the Bank of the Southwest.
What initially drew me to this mural was the use of the cubism style. According to my research, Tamayo has established a reputation in working in combination of cubism and futuristic styles, which are both apparent in this piece. This allegorical piece reveals the history and richness of America.
The main white figure in the center of the piece resembles a nude female in a reclining position. Surrounding the figure Tamayo has placed iconic natural resources to signal the abundance of the land. The viewer is reminded by "the fish, symbol of wealth of the sea; by a plant, symbol of the richness of the land; by an oil geyser and spring of water, symbols of our underground resources" (Rufino Tamayo America Mural, 2011). Tamayo also shows the unity and cultural influences in the different races with the white and red figures embracing in the top of the painting.
He chooses a vibrant pallet of reds, blues, yellows and greens, as well as, shades of gray. It is these decisions and understanding of color that have given Rufino Tamayo a reputation for color. "Today Tamayo is indeed regarded as one of the great colorists of the twentieth century" (Sotheby's, 2011).
Tamayo reveals his discipline in study and understanding of his trade as he reveals the influences from Picasso's Guernica, as well as, the emotion of the Mexican School. The piece "successfully asserts the timeless values of civilization" with his "Abstract Expressionist's embrace of the primitive and the mythic" (Sotheby's, 2011).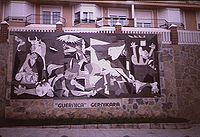 Title: Guernia
Artist: Pablo Picasso
Date: 1937
Size: 11' x 25.6'
Medium: Oil Paint
(Guernica, 2011).
Works Cited:
"Guernica (painting): Facts, Discussion Forum, and Encyclopedia Article." AbsoluteAstronomy.com. Web. 27 Apr. 2011. .
"Rufino Tamayo America Mural." MID-CENTURIA : Art, Design and Decor from the Mid-Century and beyond. Web. 27 Apr. 2011. .
"Sotheby's New York to Offer Important Mural by Rufino Tamayo, Entitled America." TheArtWolf.com - Art and the Art World. Web. 27 Apr. 2011. .